2. Venmo Redesign
DIGITAL PRODUCT CONCEPT


YEAR:

2020
PLATFORM:

Mobile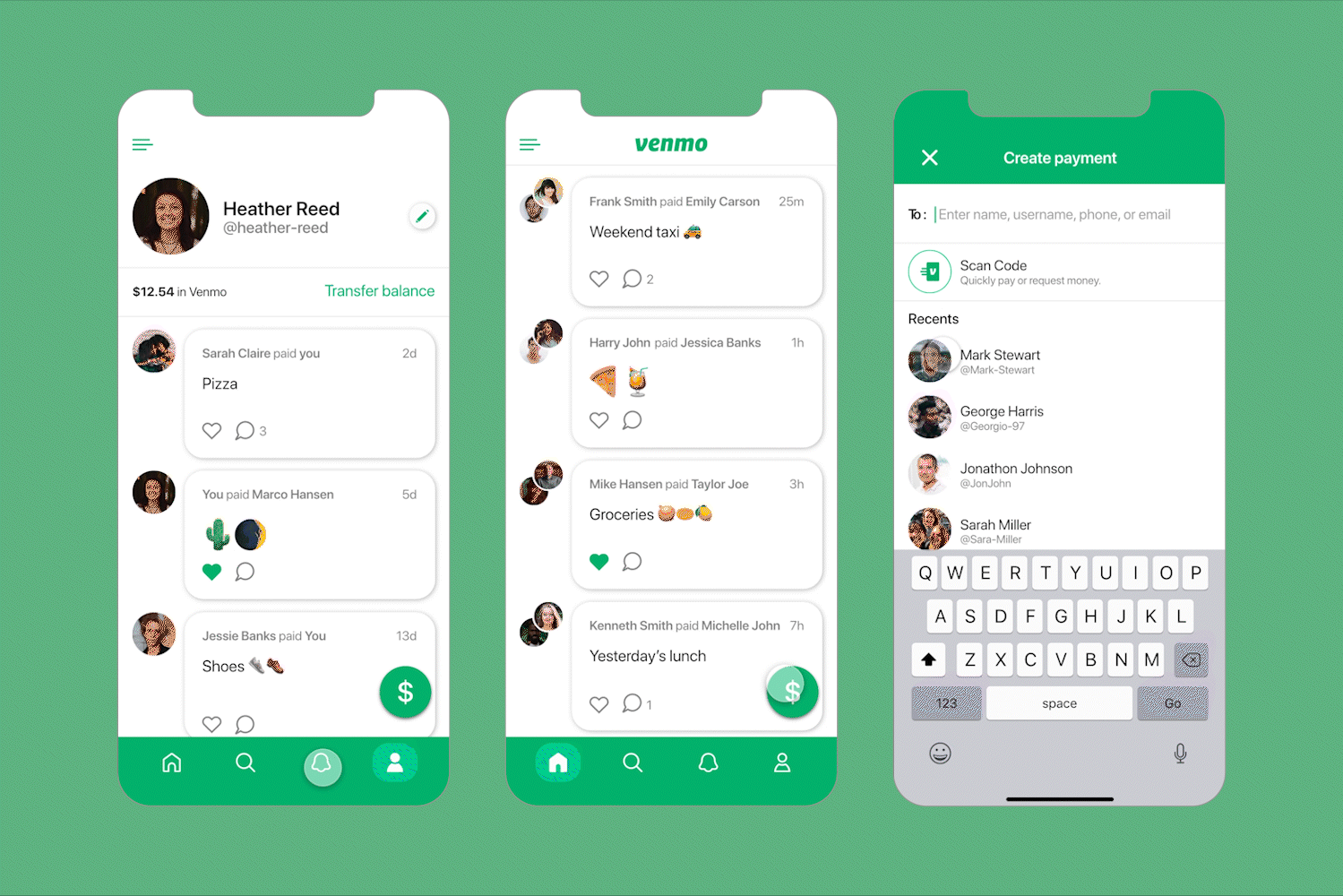 ---
CONSIDERATIONS

As the most popular mobile payment system, Venmo is a critical tool for millions of people. However, the current app design and layout fail to meet user needs and utilizes an outdated information architecture. This project is a redesign of Venmo's platform from top to bottom while keeping user flows, ease of use, and security at the forefront of the user experience.
---
CURRENT DESIGN

Venmo's current navigation layout is confusing and unconventional, resulting in user frustration. Payments, requests, and notifications are both difficult to find and stylistically outdated. Iconography is inconsistent, and primary functions are difficult to reach. All of this results in a messy user experience. When redesigning the app, I prioritized action oriented design, familiar action flows, and understanding what users are trying to accomplish.
---
DESIGN PRINCIPLES

Familiar - The application should reflect user flows that remain consistent across all scenarios.

Secure - Venmo is in the business of personal finance where security is the top priority. The interface should reflect this.

Light/Fun - The app should remain easy to use and include pleasurabile visuals that encourage use.

Consistent - With digital literacy on the rise, the application should feature a unified design language from icons to navigation pattern.
---
UI ELEMENTS

This project aims to introduce a clean, refined, yet familiar look to Venmo's mobile app. To achieve this, I prioritized designing a consistent visual language. Consistent iconography, strong type hierarchy, and usability were the main considerations in the process. I created a fresh color palette to help Venmo stand out, and help with on-screen color contrast.
---
USER FLOWS

Before designing the rest of the interface, I mapped out the user flows to guide how I wanted to reorganize the app's functionality. The primary action I wanted to focus on was the payment/request function, as it didn't feel prioritized in the current design in terms of accessibility. By introducing a floating pay/request button, users' most important function is always close within reach. Once activated, a user is presented with the choice to either pay or request as the first step. This ensures fewer mistakes when users are completing a payment, and instills confidence throughout the rest of their task.


---
NAVIGATION BAR

I chose to completely redo the navigation bar, being one of the standout problems with the current design. I moved everything to the bottom of the screen to make it easier to reach, and have a more even visual balance. The old menu also prioritized the wrong screens according to user needs, so I reformatted it to include a home feed, search, notifications, and a profile. This layout also mimics other apps that users are used to to ensure familiarity.
---
SCREEN LAYOUTS

Using a grid and interface elements I already created, I addressed the issues that I identified at the beginning of the project. The design reflects a fun, secure, trustworthy sensibility that users come to expect from a mobile payment system. With careful attention to type hierarchy and visual layering, I added layers of depth to the interface that add pleasurability to the user experience.